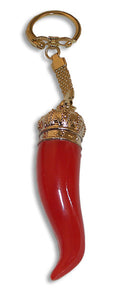 The Italian Horn key chain or cornicello (little horn) is a traditional amulet worn or displayed by Italians as a way to stay protected from the superstition of the "evil eye" or malocchio. It looks similar in appearance to a hot chili pepper but has distinguishing features. It also represents fertility and strength for some.
The top of this red mini Italian horn is adorned with an elaborately designed crown and attached to a keyring, which you can attach to keys, diaries, another personal items. You might even decide to just clip it onto your belt buckle or a loop of your jeans to carry good luck with you all day. See our other Italian horn styles, which also come in
silver
and gold with optional chains to hang around your neck.